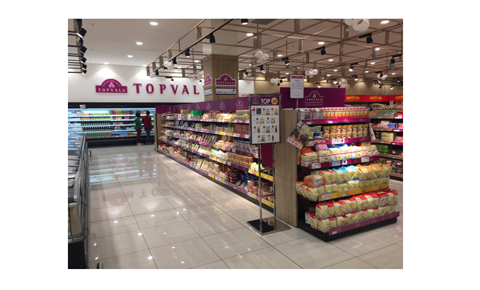 News Aeon
The integrated model of hypermarket and ecommerce
Along with the process of international economic integration, the appearance of modern retail models has changed the face of the retail market in Vietnam.
The development of life has led to the increasing demand of the people and the shopping habits have changed accordingly. Consumers want to go shopping in a modern space with full facilities, comfortable selection of goods, quality products. This explains why a number of retail businesses invest in the Vietnamese market.
From the success of the hypermarket model
Known for its 250-year history of retail, finance, and project development, the Aeon Group is currently one of the largest retail trade groups in Japan with 179 Joint ventures in and outside of Japan.
In November 2011 Aeon Vietnam Co., Ltd. was established to implement the strategy of "moving towards Asia". Since the beginning of 2014, Aeon has opened four major shopping centers, including Aeon Tan Phu Celadon (1/2014), Aeon Binh Duong Canary (11/2014), Aeon Long Bien (11/2015) and Aeon Binh Tan (7/2016), on average monthly welcome millions of visitors and buyers.
What attracts consumers to this shopping center system is the abundance, diversity of supply sources, maintaining unchanged "customers first" motto, complementary services and many interesting incentive programs every month.
Coming to the online trading business model
Not only does it give consumers a shopping experience in the large shopping center with a variety of modern conveniences, services and facilities. From 01/01/2017 to now, Aeon Vietnam has officially launched online shopping site at www.AeonEshop.com make shopping easier.
Aeon's online shopping site will be officially launched on 1/1/2017 (www.AeonEshop.com) Customers include busy female consumers in general and office workers who do not have much time to go to the mall can buy Japanese goods on AeonEshop.com such as fashion. In addition, there are Topvalu brand products - Aeon's own brand with hundreds of imported items will also be available and constantly update.
Aeon's Topvalu brand is used in many countries around the world
The support of hypermarket system with abundant sources of goods is a guarantee that AeonEshop e-commerce site will serve the increasing demand of customers.
And the interests of consumers
In the first month of launching, AeonEshop offers up to 50% discount on many items at www.AeonEshop.com, AeonEshop satisfies the buyer's immediate need for access to the product through a free delivery service for orders of 300,000 VND or more (applied conditions attached) in Ho Chi Minh City, call 19009097 for ordering or support. Delivery is available throughout weekdays, weekends and holidays.
Many promotions of AeonEshop in the opening month
It can be seen, the link between hypermarket business model and online commerce website is not new in Vietnam market. However, with significant success in many Asian countries, from a big brand in the retail business, we are confident that in the future consumers will experience the convenience and enjoy more incentives from affiliate models like this.
Shopping experience and enjoy many incentives at www.AeonEshop.com
Source: http://dantri.com.vn/doi-song/mo-hinh-lien-ket-dai-sieu-thi-va-thuong-mai-dien-tu-2016122809392847.htm
Bài viết liên quan
News Aeon

Opening of the Aeon Binh Tan

Aeon Binh Tan is located in International High-tech Park in Binh Tan district, located in the southwest, about 10km from the center of Ho Chi Minh City, will officially come into operation from 01/07/2016.In response to our customers' aspirations, Aeon's...

News Aeon

TOPVALU LABELS

Amidst the troubles of the 1974 oil crisis, major producers announced they wanted to raise the price of ramen instant noodles, but AEON decided not to accept the price increase because it could not. Is a clear and reasonable explanation...

News Aeon

Mother and baby Japanese sold online at Aeon

Thousands of consumer items, moms and babies sell online, up to 50% off the Aeon shopping site since January 2017.From January 1, 1977, consumers can shop at online commerce sites AeonEshop. Not only do you have the peace of mind...